BGV or Background verification is synonymously used for candidate and employee verification. It is one of the top priorities for companies when hiring employees to stay ahead of business and operations risks. Background verification was essentially introduced to meet business, compliance, and data security regulations for a company that is hiring new employees or screening their existing employees.
Nowadays, employee background verification is a non-negotiable part of hiring. It appears that gradually background checks are becoming more robust. Employers are checking employees rigorously and including different elements to employee verification with the power of technology. Background screening companies like AuthBridge are offering industry-specific solutions for employee screening by deploying power-packed technologies like AI/ML, proprietary databases, etc.
What is the process for BGV and how is it done?
The background verification process encompasses checking the credibility of the candidate's past employment details, their educational qualifications, if there are any ongoing or past court cases against the candidate – with the idea of hiring the right candidate for the job.
With the changing work environment and new data protection laws, companies cannot afford even a minor glitch in the resume. One wrong candidate is hired, and your market reputation earned over the years goes for a toss. A few easy steps of background verification can bring about a profitable change in your company.
At AuthBridge, we power your background screening process with real-time verification capabilities. Our combination of digital, database, and human-assisted checks yields accurate screening results 10X faster and you can easily upscale and downscale your employee verifications. So now several real-time solutions are available across remote employee onboarding journeys.
What is BGV in remote working? How has technology changed the BGV space?
With traditional verification processes proving inadequate and out-of-date, 32% of companies leverage technology tools as an alternative mode of verification [Source: EY] These findings reconfirm the fact that digital transformation is driving employee background checks in the new normal space of work.
The latest technological advancements powered by AI/ML have enabled background verification companies to optimize the BGV process while complying with data protection regulations.
Use of technology and how it automates employee verification?
In times driven by the dynamism and volatility of good talent, technology-led solutions focused on Employment, Education, Address, Criminal and identity checks have been designed to verify and onboard employees instantly. This has substantially helped HR-specific risk mitigation and faster business decision-making.
Our centralized onboarding documentation tool makes it possible to upload all documents and information in a single shot, which can be cross-referenced at any time for multiple purposes by various stakeholders. Organizations are even open to accepting digitally signed documents. Most of the manual paperwork involved in employee verification has gone 100% online. 
What are the USPs of BGV offered by AuthBridge?
1 Billion+ Proprietary database

Deep Background Screening domain expertise with 100+Background Screening Checks

Customizable and integrated solutions

Fast and secure

Industry-specific
The typical process flow for background verification journeys covers several employee touchpoints. From the candidate sharing their personal/professional details with HR which are fed over our digital platform namely iBRIDGE, to receiving fast, accurate, and customized employee verification reports.  Here, technology and automation through a platform like iBRIDGE help the whole process.
What are the easy steps of BGV via iBRIDGE?
Step 1: Log in to the portal to initiate any case and submit a BGV form
Step 2: Update all the details and documents starting with the authorization tab and followed by checks you choose like NID, education, employment verification, etc.
Step 3: In the HR dashboard, you can track and monitor the cases initiated with AuthBridge on a real-time basis.
iBRIDGE being the next-gen background verification platform integrates with leading HRMS such as Taleo, Darwinbox, Success Factors, etc. to fetch candidate details directly to our portal via robust APIs and process further for verification. 
How can BGV processes be automated using iBRIDGE?
With the help of iBRIDGE- our one-stop web platform, the entire hiring ecosystem can be automated (employee BGV, document collection, digital document signing & seamless onboarding). Let's get a sneak peek into iBRIDGE – our employee screening and onboarding platform in an easy-to-consume manner.
Tailor-made client-end processes to suit specific needs with a quick turnaround time for fast decisions

Minimal inputs to create a target profile along with comprehensive, customizable & robust reporting

Access to the largest corporate, legal, financial, negative public, and proprietary databases

One-click initiation of a new request / new candidate

Real-time visibility of the document/data collection process

Intuitive application with relevant document collection

Has AuthBridge's proprietary databases and APIs pre-integrated to ensure the industry's fastest turnaround times

Real-time visibility of progress on every case/check

Alerts & notifications can be customized as per client's request

Can be used as a future reference repository of employee information

Can be integrated with any HRMS/ATS via APIs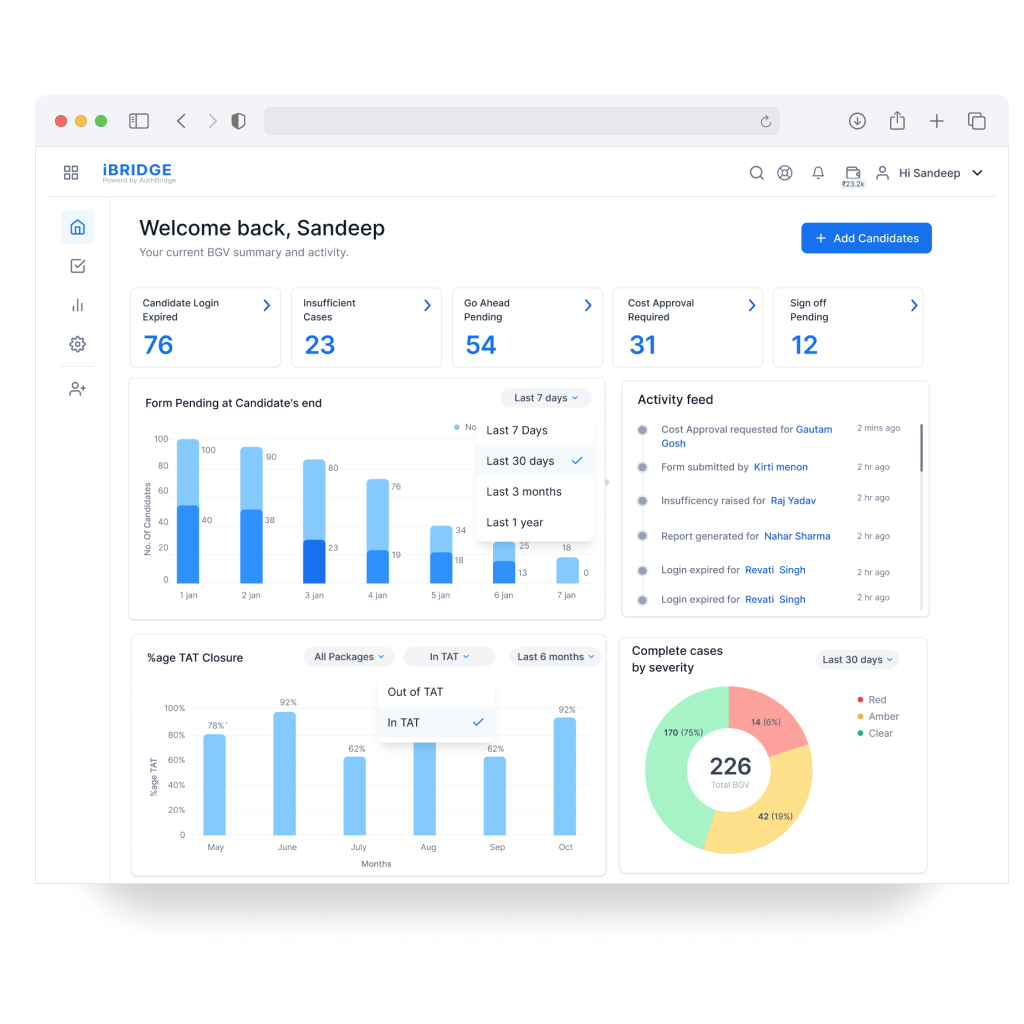 AuthBridge is India's leading Background Verification (BGV) Company. Write to us at sales@authbridge.com for more information.