Introduction
The online gaming industry in India grew at a CAGR of 38% between 2017 – 2020, and the same is expected to stay around 15% reaching about Rs. 154 billion in revenue by 2024, as per a report by Sequoia and BCG.
As the space is mostly unregulated with little government insight, it has turned into a hotspot for miscreants. Instances of fraud have been reported to increase over the past years, forcing some states to pass individual bills on regulation.
Paving the way for the online gaming industry to grow and expand, in a balanced manner, the Ministry of Electronics and IT(MeitY) recently announced rules to regulate the online gaming industry to curb fraudulent activities.
Numerous discussions by MeitY with stakeholders, including gaming companies, industry groups, players, and lawyers, among others, as well as a public consultation it held in January 2023 culminated into these regulations.
Let's understand what these rules are and how can the online gaming space benefit from their implementation.
Key Takeaways from the New Regulations
Approving Regulatory Body – The online games will have to register with a self-regulatory body, and only those with approval from the body, will be allowed legally function in India. As for the self-regulatory bodies, there can be more than one in number, and they will have to provide the ministry with a list of games they have registered and the criteria followed for registration.
Mandatory Player Verification through KYC Norms – An online gaming company will have to undertake due diligence in the form of Know-your-Customer norms (as per the norms laid by RBI). The companies will also have to inform the users of the manner of determination and distribution, withdrawal, and refund of the winnings. Additionally, the company will have to secure a Random Number Generation(RNG),  an algorithm to ensure that outcomes are statistically random and unpredictable.
Curtailing Wagering –  As per the rules, Self-regulatory bodies do not allow wagering i.e. no bidding on the outcomes of the game. The rules also prohibit the advertising of games involving betting and gambling on social media platforms. Social media platforms must confirm with the self-regulatory body if the online gaming company has been registered before agreeing to host their advertisements.
Displaying Verification Mark – Online gaming platforms are required to publish a verification mark (watermark) as proof of verification from a self-regulatory body for any permissible online real money game.
Ensuring Compliance – Similar to what's followed in social media and e-commerce companies, the rules propose the appointment of a compliance officer to ensure that the platform follows the norms, a nodal officer to act as a liaison with the government, and a grievance officer to resolve complaints.
Ensuring Due Diligence is in Line with the New Rules
The online gaming space, mostly unregulated at present, has become a breeding ground for fraudsters. There have been increasing reports of referral bonus frauds, underage playing, and a lot more, since the time the online gaming industry took its wings. Due diligence of the users with appropriate KYC procedures has thus become a must-have.
Here are some must-have checks that we recommend to gaming companies to keep speed with the new MeitY rules for the online gaming industry: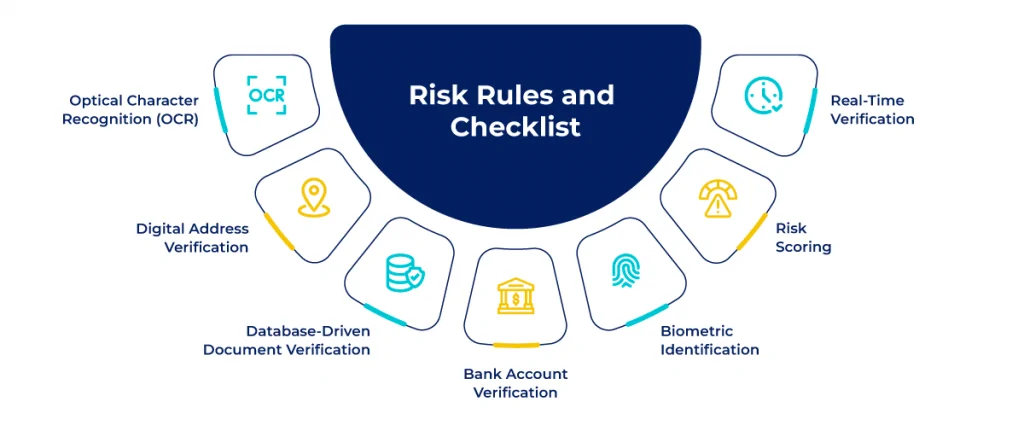 Optical Character Recognition(OCR)

: OCR technology catches document forgery and tampering easily, sieves fake applications from the real ones, and enables ease of onboarding with automated data capturing. This results in a seamless player onboarding experience and lower account abandonment rates.

Digital Address Verification

: Digital Address Verification captures the location of a user through geo-coordinates and helps in preventing location spoofing, allowing gaming businesses to stay compliant. 

Database-Driven Document Verification

: NID verification against PAN or Aadhaar databases allows for quick verification of documents, establishing the identity of a player in real-time.

Bank Account Verification

: Validation of bank details is crucial to prevent money laundering and financial crimes. Our API-based penny drop method validates bank details along with the beneficiary's name.

Biometric Identification

: Biometric identification technology matches a player to their documents through an image-based face match and validates that a player accessing the platform is the same one who registered in the first place.

Risk Scoring

: Get an updated risk score of a user based on the checks executed. As per the scorecard, you can decide whether to onboard a particular user or not.

Real-Time Verification

: Video KYC journey combined with state-of-the-art technologies for document tampering, liveness check, and real-time verification of users at scale for fastest onboarding – in 2 minutes or even less.
Interested in knowing more about how AuthBridge can help you safeguard your business against fraudulent users and suspicious transactions while meeting the requirements outlined in the new regulations?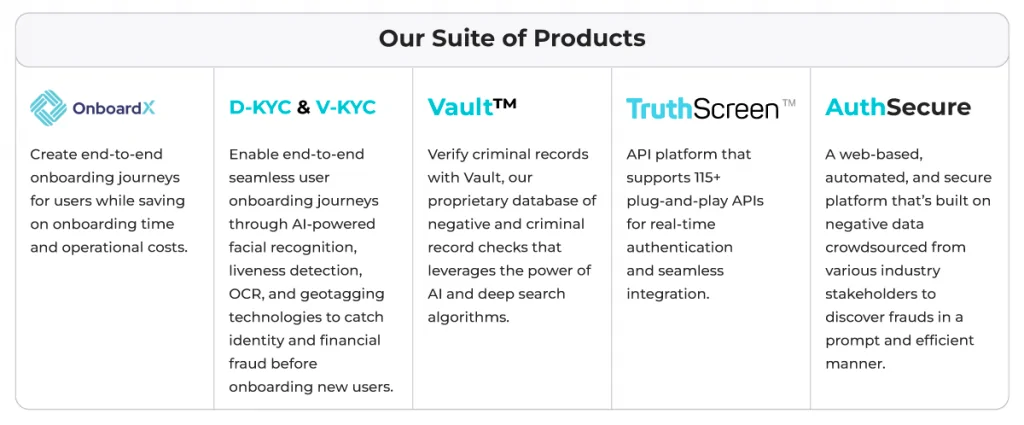 Read Case Study: How Dream11 Verified 1Cr+ Users with AuthBridge's Authenticating Platform