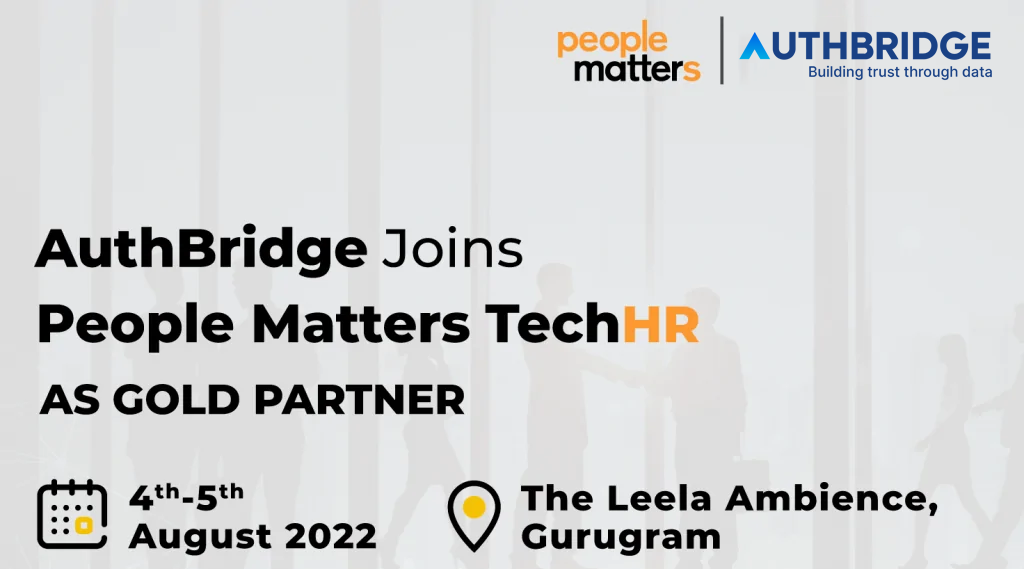 We are excited to welcome you all to People Matters TechHR 2022 – Asia's largest HR & Work Tech conference where AuthBridge is joining as a Gold Partner. We also have a CEO Power Session planned where Mr. Ajay Trehan, Founder & CEO, AuthBridge will share insights on the key tech trends to empower the HR fraternity.
The most influential thought leaders, HR practitioners, HR technology product leaders, start-ups, and investors are coming together to build a trust-based collaborative community that redefines the new future of work. Please make time to attend the event and get to know some of our industry experts more closely.
Fast-paced organizations require agile, flexible, and innovative solutions to manage their critical HR processes on an everyday basis. The world of work needs new-age, tech-led solutions to solve your critical HR problems. Going forward, we intend to break away from the past and, imagine what's possible in a digital-first era and what's what we'll focus on at the People Matters TechHR event.
AuthBridge is India's largest authentication technology company for over 16 years now and offers AI/ML-driven solutions, alternate data analysis for identity management, onboarding, verification, and business intelligence. The world of authentication can be both challenging and exciting, which is why AuthBridge continues to innovate and disrupt.
Visit our team of experts at Booth number G8 at The Leela Ambience from 4-5th August 2022 and rethink the Future with #FreshEyes! We will be presenting our tech-advanced authentication solutions and offerings to help you build a trustworthy ecosystem.
Register for People Matters Tech HR 2022
Looking forward to meeting you there!