iBridge 2.0 is a next-generation background check solution that offers a modern and pleasant  experience for users. Unlike other background check solutions, iBridge 2.0 is designed to be user-friendly and easy to navigate, with real-time checks that can help you get the information you need quickly and efficiently. It includes a gamut of advanced functionalities to make background verification seamless. 
Enhancements like verification TATs charts, real-time updates and customizable packages & reports, make it a top choice for HR Ops and CHROs for businesses of all sizes.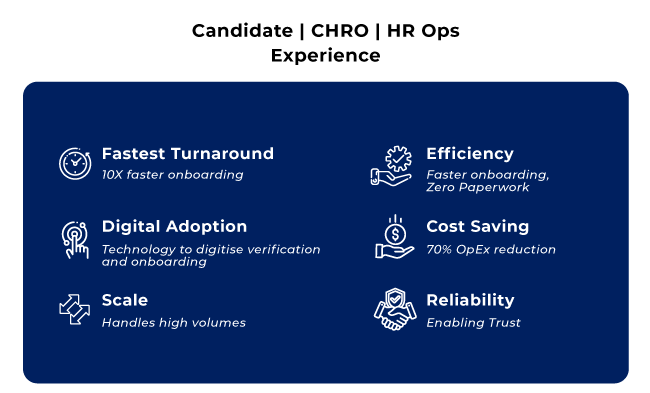 Need for a next-generation background verification
Hiring processes have transformed drastically in the recent past  The core objective BGV process is to ensure trust between the employer and the candidate. Speed and accuracy play a pivotal role in achieving operational efficacy while maintaining the sanctity of data, process compliance, and security. With real-life challenges like the misrepresentation of data, identity fraud, and document spoofing business demand much more stringent frameworks for screen & hire the right talent. 
Everything you need on a single platform
iBridge 2.0 offers an intuitive user interface with a ton of customization capabilities made to fit right into your BGV process. It keeps in mind all the needs of a hiring manager like, visibility, trackability and ease of use throughout the process. 
Here is a sneak-peak into what iBridge brings to the table:
Custom Screening Workflows
With diverse verification needs for different roles, we understand the need for a custom screening process. Going by the manual route becomes tedious while leaving scope for human errors. 
iBridge 2.0 enables the admin to configure custom workflow for different candidate groups.

Share with your team and use these preconfigured workflows to nudge the candidate into the appropriate verification flow.
Improved Trackability With a Holistic Dashboard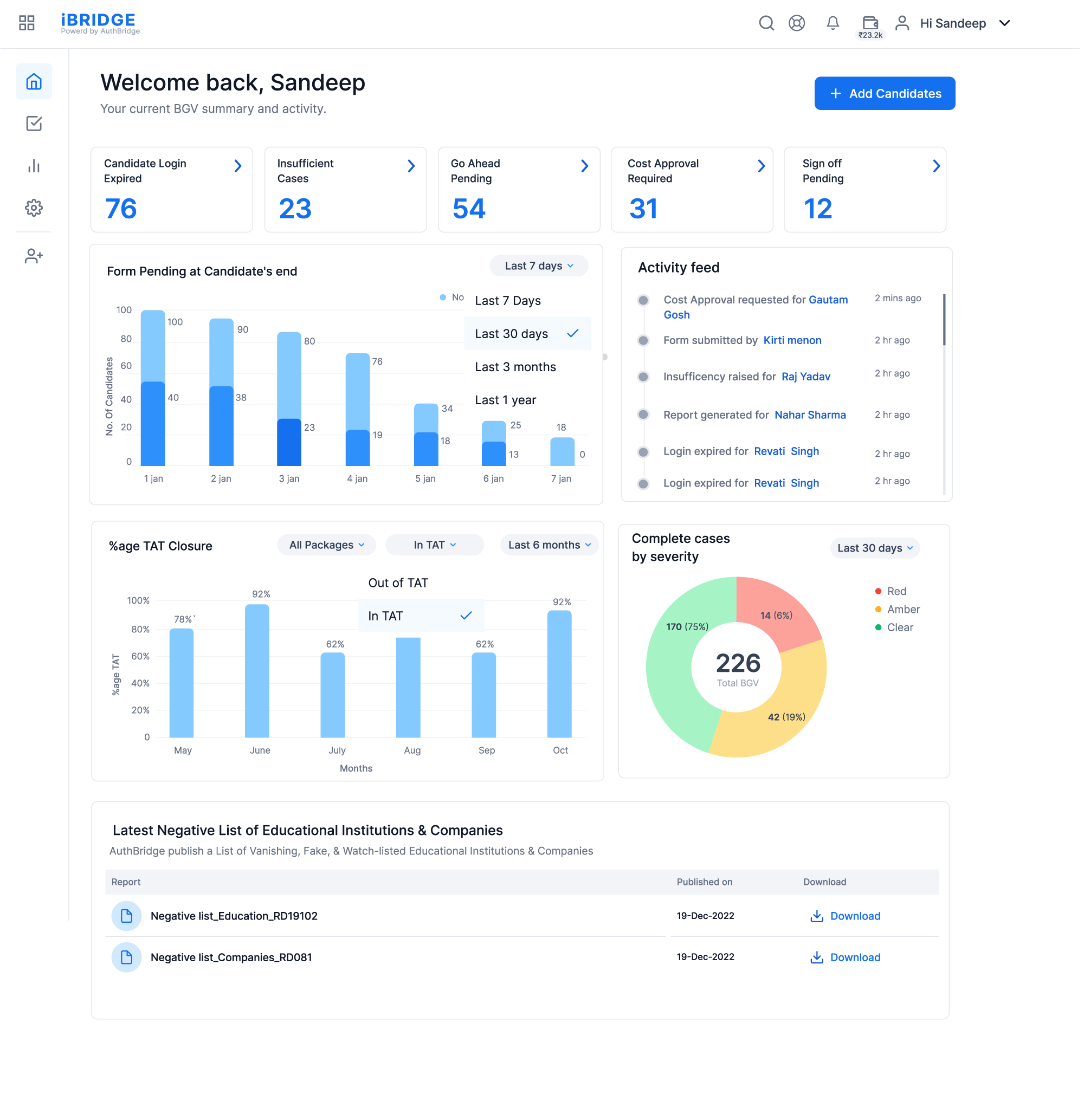 As an HR Op or as a CHRO, we understand how crucial it is to keep tabs on key business metrics. Here is how iBridge 2.0 dashboard provides the visibility and trackability you need:
Summary view of the cases by their progress status to keep track of the overall pipeline.

Tracking BGV completion is super easy, you can slice and dice the data weekly, or monthly to analyze cases completed, pending or in progress.

Activity feed gives you updates in real-time as and when an action is taken.

The severity chart helps you understand the information discrepancies with respect to the type of check conducted to generate red, amber or all-clear reports
Minimize Manual Efforts With Bulk Actions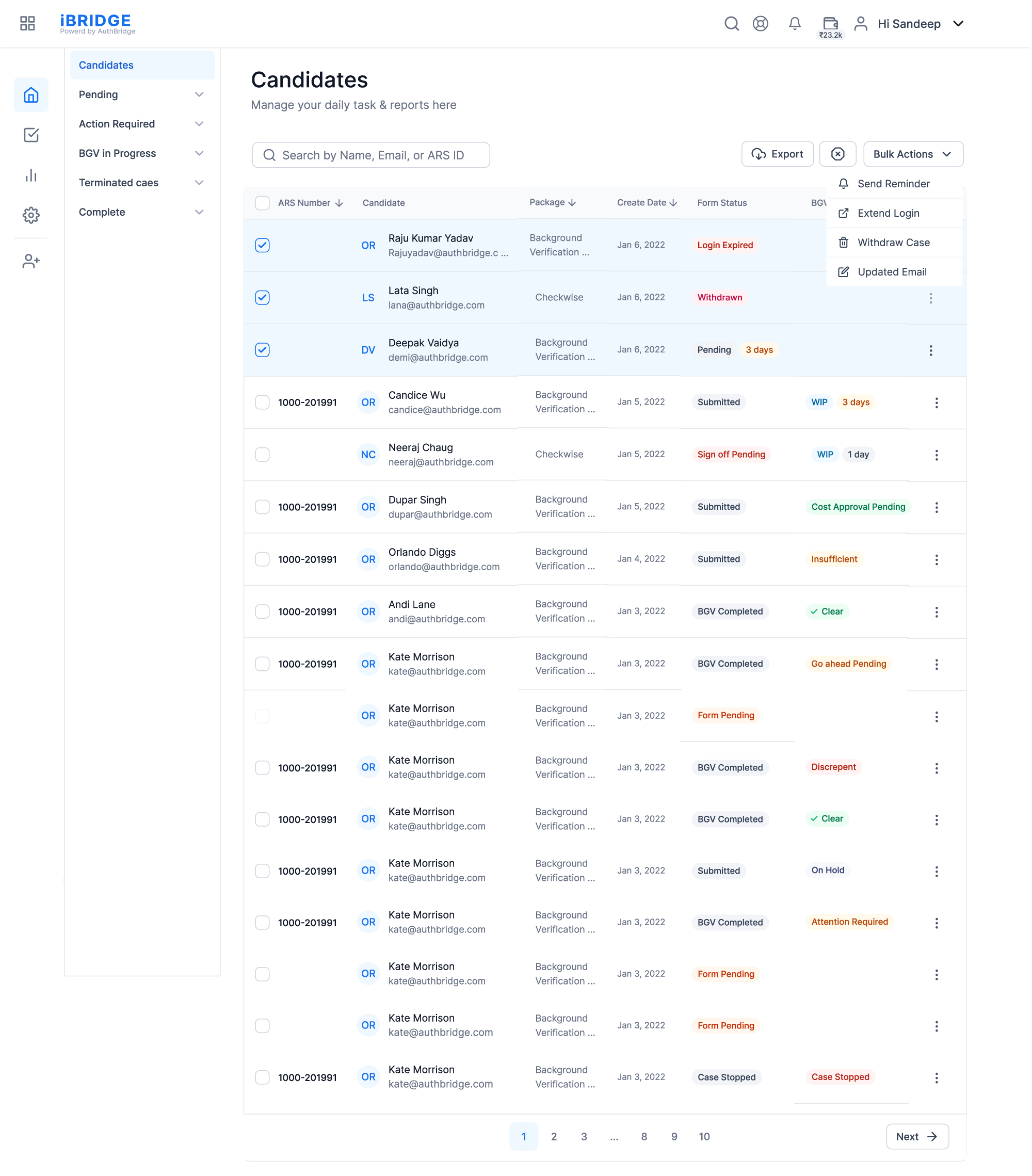 While hiring at scale, it takes a lot of valuable time for the HR Ops to input all the necessary information for each candidate, and follow up with them individually. You wished that could have been avoided. Well, say no more…
Invite all your candidates to start their verification process with just a .csv file upload

Remind all the candidates if they are running behind the schedule with a click of a button.

Reviewing has never been easier, give sign-off for background checks with a single click.
Gauge Efficacy with Custom and Prebuild Reports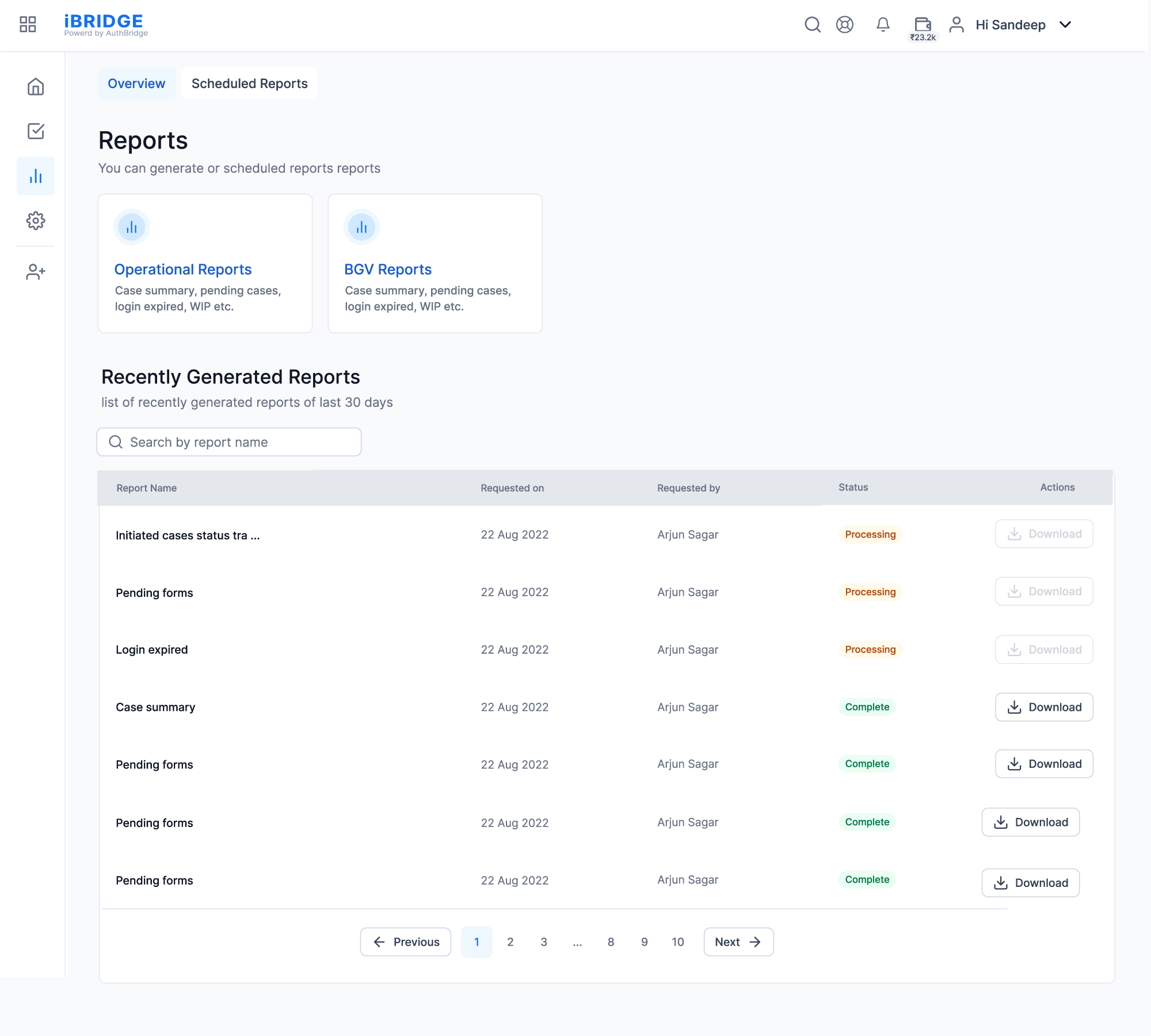 Measuring the success of background verification progress is often a major challenge for the CHROs. With limited information available to the team, figuring out key operational challenges and solving them becomes next to impossible. With iBridge, you can do it all
iBridge 2.0 offers you prebuilt report templates for your ease to look at key business metrics

It also offers you the complete flexibility to customize your report to fit your business needs

Two types of reports are offered as prebuilt templates on iBridge 2.0

BGV reports help you to understand the overall progress and slice the data based on a number of parameters like; check-wise, Work in progress or Cost of approvals

Operational reports help you look at operational challenges like pending forms, login expired and pending sign-offs and solve for them
Going above and beyond with advanced BGV checks
iBridge 2.0 stands apart from the competition with its advanced verification capabilities to become a truly comprehensive background check solution. 
Conduct real-time and TAT-based checks right from one platform.

Be remote-ready, with digital address verification with geotagging.

Stay fraud free with features like liveness detection, OCR and face-match against proof of identity.

Conduct real-time checks against the government and proprietary databases for speed.
Modern UI with Integration Options
Improving user experience has been a central objective of the evolution of iBridge 2.0. It has been designed keeping in mind the needs of its users. It offers an intuitive interface with ease of navigation to get things done.
To offer a seamless experience across devices, iBridge 2.0 is device agnostic by default.

Flexibility to switch sections for candidates along with a progress tracker visible all the time.

FAQs and self-help guide be there if you may need assistance anytime on the platform

iBridge 2.0  is seamlessly integrated with top HRMS like Darwinbox, Zoho, and ZingHR along with Open API-based Integration options.