Supplier onboarding and due diligence is the process of gathering important information on prospective suppliers, vendors, distributors, or other third parties for identity validation and risk assessment. After 360-degree due diligence, businesses can onboard them into their platform for the smooth functioning of supply chain operations. The entire process of invitation, onboarding, screening, contracting, and post onboarding monitoring comes under supplier onboarding. 
In simple words, it's about enabling seamless and efficient processes so that businesses can develop strong relationships with third parties and prevent frauds from hampering their business.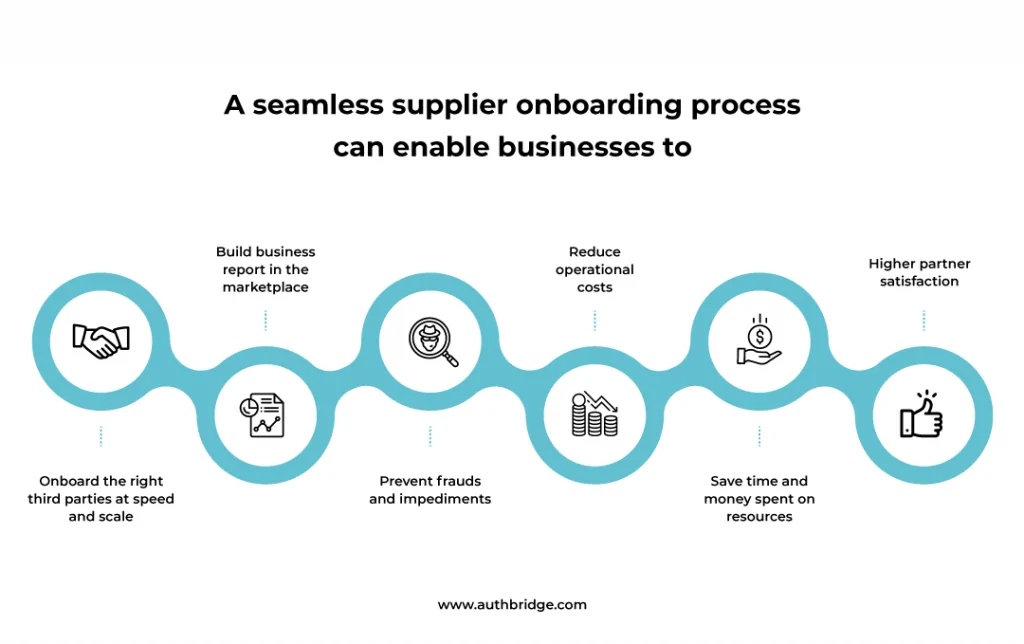 Onboarding new suppliers at speed and scale can be tricky. Especially when you do not have an established methodology and smart technology in place. It can expose your business to reputational risks and compliance failures from the get-go. A streamlined process for onboarding a new supplier can catapult your business to great success.
What is the process for onboarding a new supplier with software?
Too many bells and whistles in the supplier onboarding process might lead to distraction and loss of profitable associations. Adoption of a simplistic yet powerful onboarding technology keeps you at the vanguard, reduces overhead costs, and enables risk-free third-party onboarding. AuthBridge's third-party onboarding solution helps businesses with custom workflows and automated end-to-end journeys for supplier and vendor onboarding, and much more while also covering post-onboarding risk watch and screening.
Step-by-step process flow checklist for Supplier Onboarding
Assess your business as well as suppliers' needs
A great supplier and vendor onboarding process is not just about bringing in new suppliers and vendors but also providing them value. Be mindful of your suppliers' needs and expectations to set up the right approach to working with them. Assess their requirements, take the right actions, and turn them into measurable goals.
Deploying the right technology for seamless onboarding
The right onboarding technology can eliminate lengthy, manual, and complex form-filling verification processes for third parties. In this tech-savvy era, where everybody wants advanced, time-saving, and customized experiences, such processes can lead to higher partner dissatisfaction. Moreover, manual verification adds to the operational costs and is prone to errors.
For seamless onboarding, minimal funnel dropouts, and 10x faster service activation, it is imperative to digitize the due diligence process with customisable workflows. With the help of AuthBridge's AI-powered onboarding technology, businesses can onboard third parties at scale, eliminate delays, and reduce onboarding TAT by up to 70%.
Frauds and risks assessment
Catching identity thefts, assessing warning signs, and ensuring that only genuine parties are onboarded into the platform are vital. It will help mitigate informational, operational, financial, and regulatory risks. AuthBridge's onboarding technology is built on OCR (Optical Character Recognition), facial recognition, and liveness detection technologies – assuring the least manual intervention.
With key checks like NID/AML checks, GST and bank account verification, criminal database, court record checks, police clearance certificates, and financial/reputational due diligence, businesses can prevent third-party risks and always stay on the right side of the law.

Document collection and signatures
Collecting client documents and storing them for future as well as for compliance and audit purposes becomes strenuous when done manually and at scale. During the supplier onboarding process, businesses can reduce this stress by digitizing documentation with digital signing solutions.
SignDrive by AuthBridge is a digital DTM platform (document transaction management) that helps businesses automate document and workflow management and creates legally enforceable digital signatures reducing the need for wet signatures.
Post Onboarding Feedback
After verification and successfully onboarding new clients, businesses must take feedback from third parties to know their experience or if they face any friction during onboarding. A quick check-in call can help businesses strengthen relationships with their partners and give them a sense that you value them.
Final words
Integrate technology to automate the entire wheel of the supplier onboarding process and make the complex journeys easier. Get future-ready with AI-powered onboarding technology to enable risk-free third-party onboarding and build authentic relationships with AuthBridge – India's leading authentication and onboarding company.