Finding the right talent is a herculean task in today's fast-paced and competitive market. Hours of talent hunting, numerous interviews, and extensive resources invested in the hiring and onboarding process make it imperative to ensure that the individuals you select are a perfect fit for your organisation/business.
Considering the number of identity, criminal, fake degree, and impersonation frauds surfacing daily, conducting a 360-degree background verification becomes more critical to cover every aspect of an individual's past track record and current personality or assess the person's attributes.
In this blog, we'll delve into employee screening background verification, exploring its various facets and why it's indispensable for businesses of all sizes and industries.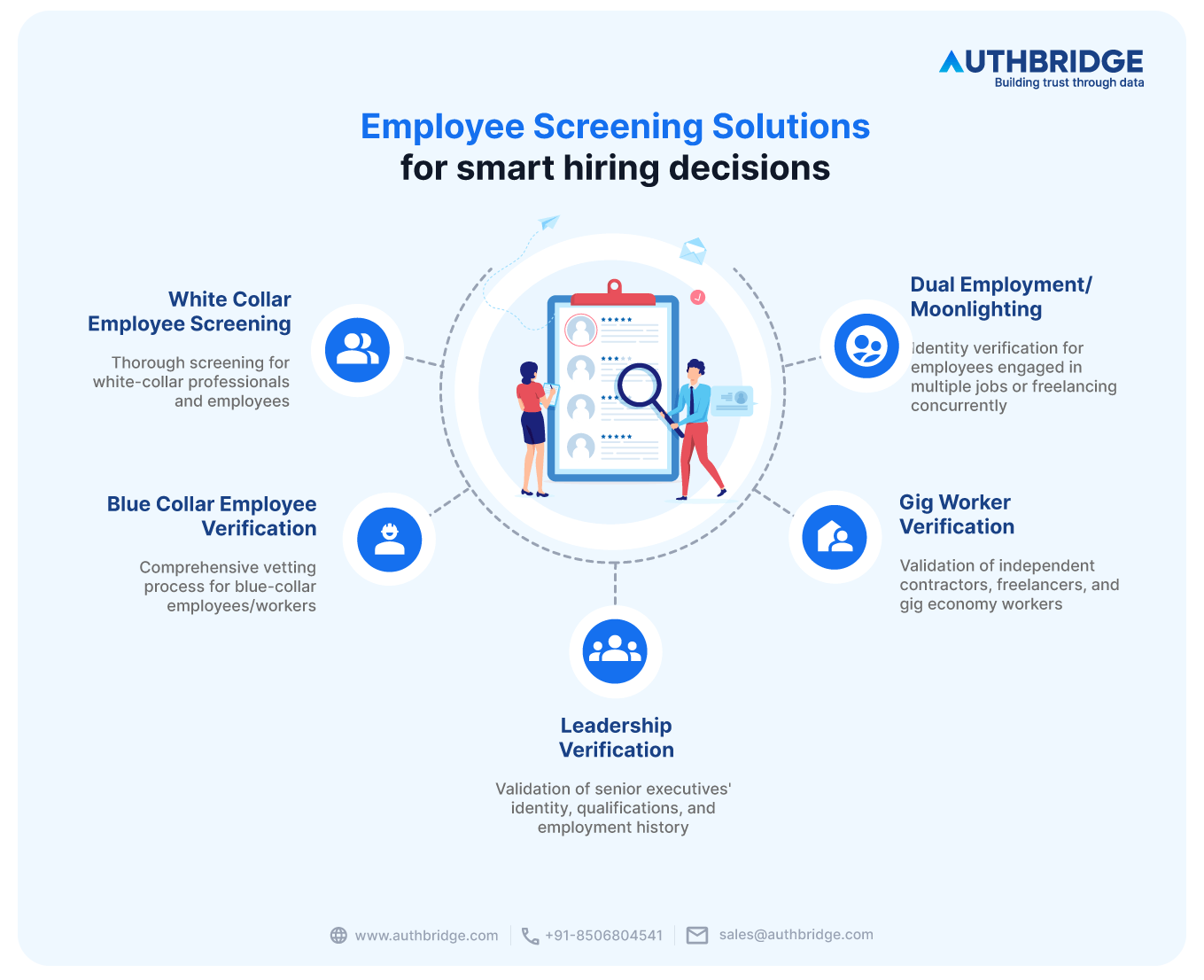 White Collar Verification
Imagine finding that ideal candidate, only to discover their hidden criminal history. This scenario can spell disaster for your organization's reputation and operations. This is where white-collar verification ensures that your employees have the highest integrity.
White Collar Employee Onboarding & Verification Challenges
Conducting extensive background checks, including education, professional, criminal, reference checks, etc.
Handling sensitive personal and professional data to protect employees' information.
Meeting strict regulatory compliance in certain industries, such as finance and healthcare, demands careful adherence to compliance standards.
Ensuring that your background verification partner provides accurate data to identify thefts and other associated frauds.
A robust screening process for white-collar candidates can help you with a detailed evaluation of the candidate's criminal history, employment history, educational background, and more. You can onboard genuine candidates in bulk without compromising on quality and security.
Learn about our White Collar Screening Solution
Blue Collar Verification
Blue-collar workers are the backbone of many industries, and their reliability and trustworthiness are just as vital as those of white-collar employees. Blue-collar workers typically perform manual labour and tasks that require physical skills, often in industrial, manufacturing, e-commerce, construction, or on-field roles.
Blue Collar Employee Onboarding & Verification Challenges
Verifying qualifications, certifications, and licenses for blue-collar roles, especially when it comes to bulk onboarding
Some blue-collar employees are not tech-savvy, making it a must to have a seamless onboarding and verification solution.
Validating if they are adequately trained to support their job functions and do not have a history of workplace misconduct to prevent major reputational risks.
Meeting compliance with industry-specific regulations and standards
Blue-collar verification includes checking criminal records, previous employment, and verifying technical qualifications (wherever required). Deploying a robust platform for blue-collar screening can help identify red flags, such as a history of workplace misconduct, reducing the risk of workplace issues or disputes. Businesses can make safe hiring decisions, ensure faster onboarding at scale, and be at peace of mind knowing that their workforce comprises qualified and trustworthy employees.
Learn about our Blue Collar Screening Solution
Leadership Due Diligence
Leadership positions in any organization hold high trust and responsibility. Imagine the consequences of hiring an incompetent or ill-intended manager that can bring an organisation into disrepute and put the brand's reputation in dire straits. Not only reputational risks but a wrong hire in the leadership position can also pose a significant operational risk and hinder the efficiency and productivity of the organisation.
Leadership Due Diligence Challenges
Assessing whether a candidate will fit into the organization's culture or not.
Lack of robust assessment tools for evaluating leadership potential. Traditional techniques and reference checks may not promise a 360-degree evaluation of leadership abilities.
The leadership due diligence process can be time-consuming. Organizations may be tempted to expedite the process, leading to oversight or incomplete evaluations.
Conducting leadership due diligence in a legal and ethical manner. Mishandling sensitive information or discriminatory practices can lead to legal and reputational issues.
Conducting global database checks to identify any international records or red flags associated with the candidate.
Leadership due diligence should be seen as a long-term investment. Organizations should consider implementing a more comprehensive evaluation framework for leadership assessments, peer feedback, and 360-degree reviews to overcome the challenges. With this, organisations can be assured that the new hires are well-qualified and have the necessary skills, qualifications, and personality attributes to lead a team effectively and drive key business outcomes.
Learn about our Leadership Due Diligence
Moonlighting
Employee moonlighting and its concerns, i.e. data privacy, confidentiality breaches, productivity loss, etc., came to the fore, especially after the COVID-19 pandemic when employees started working remotely. Many adopted a hybrid model, and organisations worldwide also embraced this shift. Moonlighting cases put a question mark on the ethical obligations and commitment of the employees. Moreover, it can lead to burnout and negatively impact an employee's health and well-being – causing poor performance and absenteeism. This makes moonlighting checks imperative for employers in managing their workforce effectively.
Moonlighting/Duel Employment Verification Challenges
Conflict of interest as an employee may work for a competitor or engage in freelance work that competes with their primary company's business.
Lack of transparency as employees fear disclosing their additional employment. Evaluating financial data, i.e. EPFO check, UAN check, and Form 26AS checks at periodic intervals, can help track moonlighting and enforce restrictions.
Verifying moonlighting can be time and resource-intensive without a reliable BGV partner as it involves background checks, monitoring employee behaviour, and investigating potential violations.
Employment laws and privacy regulations can vary by jurisdiction. Being cautious not to infringe on an employee's rights or invade their privacy when verifying moonlighting is challenging.
Employers may struggle to effectively communicate their policies on moonlighting and the potential consequences of violations.
Implementing moonlighting checks is a strategic move to monitor whether their candidates are engaged in multiple employments and assert a degree of control. Consistent moonlighting checks can help organizations identify moonlighting instances among their staff and proactively address the associated risks.
Learn about our Dual employment/Moonlighting checks
Gig Worker Verification
The gig economy is rising, and many organizations rely on gig workers for flexibility and scalability.  Gig workers play increasingly important roles in various industries, contributing to the evolution of the modern workforce.
Gig Worker Verification and Onboarding Challenges:
Handling personal and sensitive data during the identity verification process
Managing bulk verification and onboarding of gig workers, especially during peak periods
Ensuring consistent verification process across different regions/markets due to varying regulations
Verifying gig workers' qualifications and backgrounds, working remotely or in various locations
Preventing fraudulent gig worker applications, identity frauds, or misrepresentations. A robust verification framework encompassing an array of necessary checks, i.e. driving license verification, RC, NID, face match, police verification, etc., should be kept in place.
Balancing the costs of comprehensive verification and onboarding processes
Plugging gig worker verification services into the existing onboarding journey (whether through an app, custom portal or any other platform) is the key. A right background verification service provider can do this seamlessly.
Staying compliant with evolving labour laws and regulations
Verifying the credentials and backgrounds of gig workers is crucial to maintaining a secure and trustworthy workforce. A robust onboarding solution will help you authenticate your gig workers in record time and uncover fake/forgery documents, identity thefts, and criminal history to mitigate reputational risks.
Learn more about Gig Worker Verification
Key Checks for Employee Background Verification
How does AuthBridge's background verification platform take your employee onboarding a notch higher?
Industry's Fastest Turnaround Time: Fast and accurate employee screening process to ensure comprehensive verification outcomes within record time. Our expansive proprietary database and advanced analytics help businesses expedite onboarding and provide accurate and reliable verification results you can trust.
Limitless Scalability: Effortlessly handle verifications at any scale, no matter how large or complex your hiring and screening needs may be.
Paperless and Contactless Onboarding: Technologies like optical character recognition (OCR), image recognition, face match, document classification, and digital signatures will save your business time and cost-effectively.
Customisable and integrable with any HRMS: Plug in or out any component of the background verification process as per your requirement. Our employee onboarding products can be used as stand-alone web platforms or integrated into your existing HRMS/onboarding tool via APIs.
Built-in regulatory compliance and data privacy : Our verification and onboarding products adhere to General Data Protection Regulation (GDPR) requirements and global encryption standards so that your organisation stays compliant with ever-changing regulations while scaling up.
Want to know more about our employee onboarding and verification products? Contact us today!