Leading Steel Company Onboarded 700+ Vendors in Record Time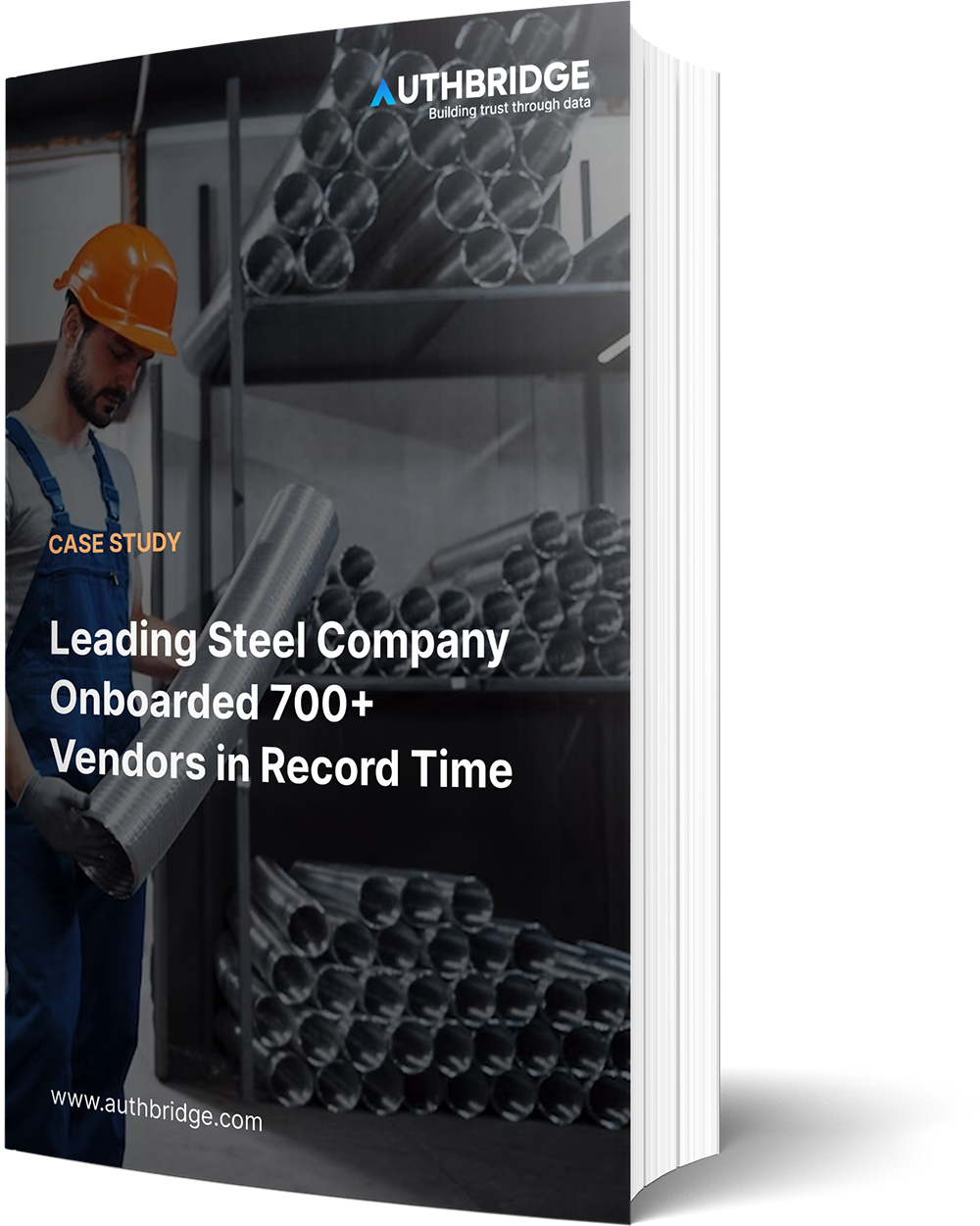 An industrial powerhouse with a dominant presence in steel, power, mining and infrastructure sectors.
700+ vendors onboarded at speed
Automated onboarding with DIY User Journeys
Reduced TAT with 10X faster document collection, digital signing, and verification on the go.
Bulk onboarding and customisable workflows
Regulatory, reputational, and financial checks for mutual trust and transparency
Streamlining vendor onboarding, keeping tabs on inherent risks, and tackling vulnerabilities in the supply chain – especially after Covid-19, is paramount for businesses to avoid conflict of interest and be at the leading edge. 
Our client, one of the industry leaders in the steel, power, and infrastructure industry, wanted to overcome these challenges while facilitating frictionless vendor onboarding. Earlier procurement personnel dealing with local contractors/vendors used to conduct due diligence and onboarding manually, resulting in more exposure to fraud risk. Moreover, the critical documents i.e. licenses, financial/legal details, etc. collected physically, causing unnecessary delays, chokepoints, and errors.
AuthBridge was appointed as a Vendor Onboarding and Verification Partner for vendor onboarding at scale, reducing business inefficiencies and mitigating underlying risks.
Implemented OnboardX
We implemented our one-stop web platform – OnboardX to automate the end-to-end vendor/partner verification and onboarding process. This API-led intuitive application is easily integrable, facilitates real-time verification, and ensures that only relevant documents are collected so businesses stay compliant with legal and regulatory mandates.
Dashboards and Live Tracking
The vendor onboarding and due diligence are completed through APIs built on our proprietary databases. Real-time visibility of progress helped our client stay updated on every check/case.
Central Repository, a Smart Document Management
We enabled smart document management and eliminated the manual and scattered processes for document uploading and information collection.
DIY Onboarding Journeys
Customizable, self-executing onboarding journeys helped our client onboard vendors 10x faster, leading to a delightful user experience and better business efficiency.
Our AI-powered onboarding technology helped our client infuse speed and scalability into their vendor onboarding process and verified the authenticity of every vendor to eliminate the risk of financial, legal, or reputational damage. Quick vendor registration with the fastest document collection and real-time verification mitigated business safety risks and created seamless vendor onboarding experiences.
Ready to Explore AuthBridge for your business?
We'd love to show you how AuthBridge can help your business. Fill out the form and we'll be in touch within 24 hours.