Leading FMCG Company Accelerated it's Onboarding Process with AuthBridge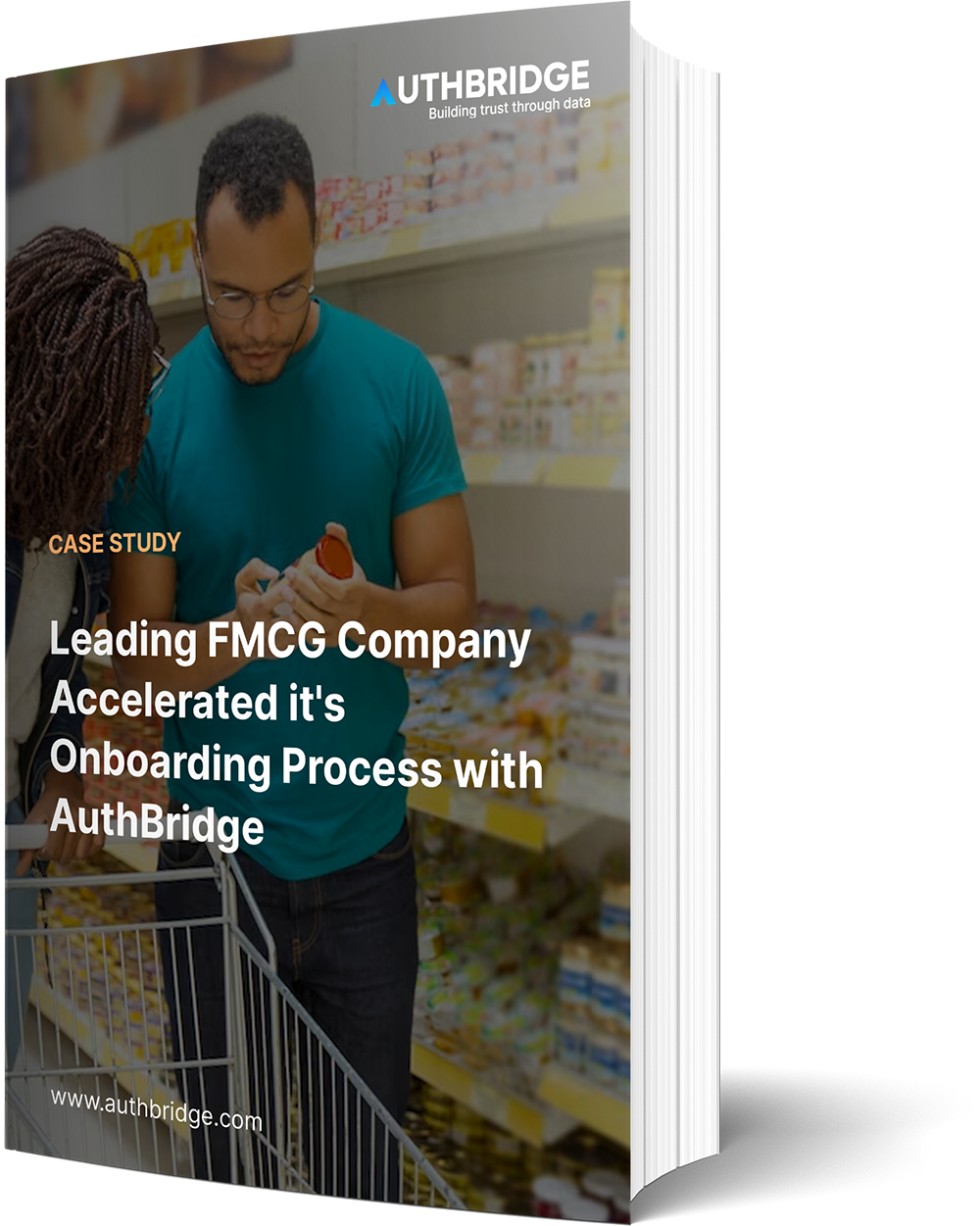 An American multinational food and beverage company headquartered in New York with a strong presence in both developed and emerging markets. One of the largest food and beverage companies in the world and known for its wide range of popular brands.
Onboarding TAT reduced by 65% 
Vendors successfully onboarded after evaluating and creating a risk profile for each vendor
115 checks on the platform helped in creating a customised secure onboarding process
B2B transaction visibility helped in preventing financial loss
Manual onboarding is 'tedious and tangled' – especially at scale and can lead to compliance failures and reputational and financial risks. Some profitable vendors/suppliers might also quit in between if the process is complicated.
Our client, a behemoth in the FMCG industry, wanted a smooth, automated, and fast solution to onboard vendors, distributors, dealers, and suppliers at scale across India and reduce their TAT while ensuring seamless onboarding and user experience with real-time authentication.
Remodelled the traditional onboarding cycle
AuthBridge enabled our clients to automate their onboarding journeys with the help of 'OnboardX', which helped them improve TAT and helped them expand business operations across India. The streamlined process and real-time authentication enabled seamless onboarding and user experience for their verified dealers and distributors without losing pay to third parties.
Key checks supported by OnboardX
We offered key checks, i.e. corporate identity checks, financial history checks, director profile and reputational risks checks to mitigate various types of risks, such as financial, compliance, and reputational risks.
AI-powered technology for seamless and faster process
Our platform is built on technology such as Optical Character Recognition (OCR), Digital Signatures, Image Recognition, and Digital Address Verification to streamline the process faster and more efficiently.
Customisable and end-to-end journeys with features like DIY onboarding journey enabled our client's partnership teams to reduce verification TAT, enhance supplier integration and low-risk collaboration, and fastest onboarding of large forces and scaling business operations.
Ready to Explore AuthBridge for your business?
We'd love to show you how AuthBridge can help your business. Fill out the form and we'll be in touch within 24 hours.