An IT Solutions company almost employed a top-level hire with a fake IIM-A degree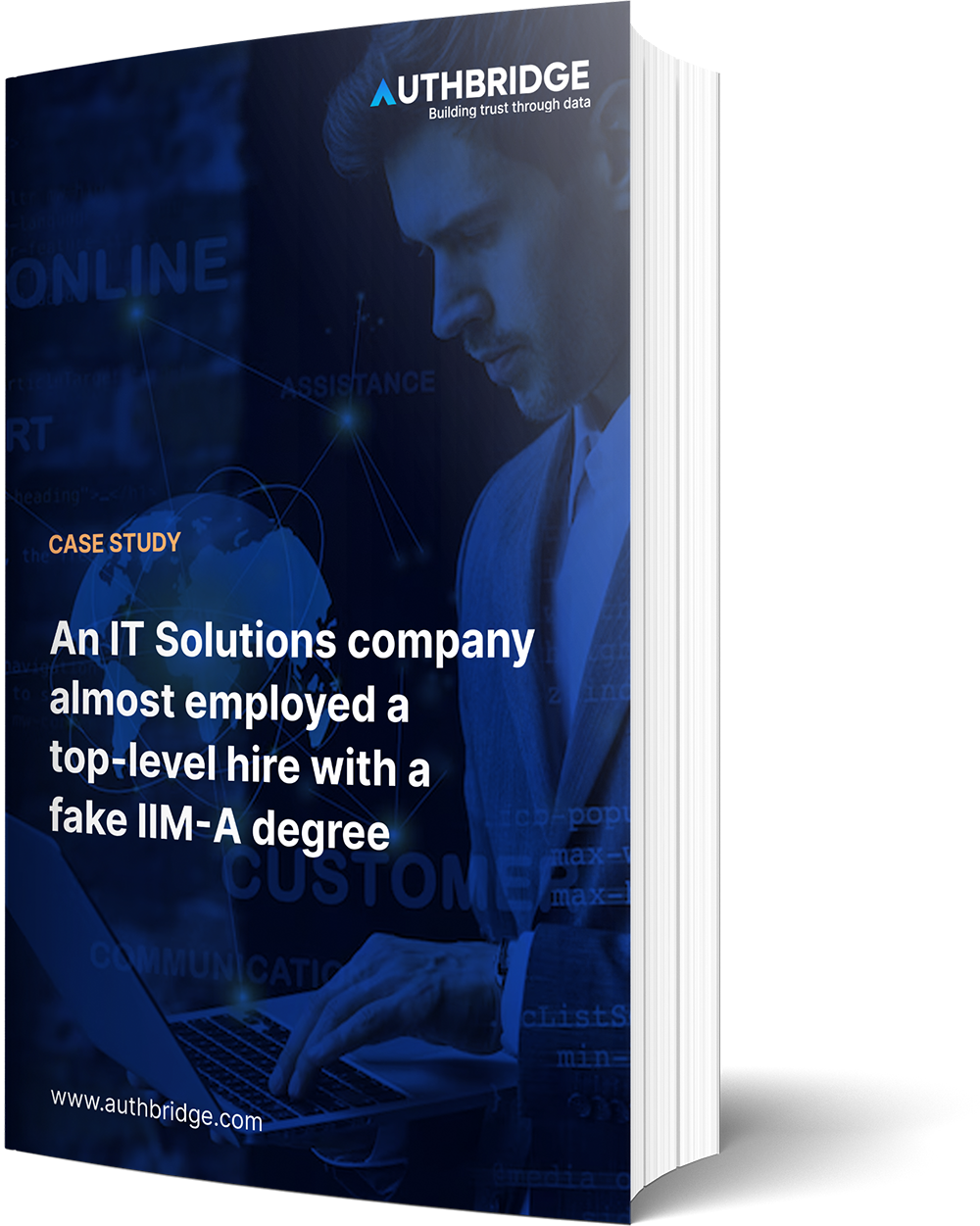 A leading IT solutions provider offering a wide range of information technology (IT) products, services, and solutions to help businesses and organizations address their technological challenges.
Caught multiple fake education documents
Overlaps in employment and educational qualifications
Almost 10% of the offers extended to candidates for high-impact job positions are withdrawn or re-negotiated post an AuthLead™ report.
A leading IT solutions provider used our solution – AuthLead™ – to conduct background verification on the prospective CXO. The feedback on the CXO included a lack of professional communication skills despite an illustrious career boasting global exposure and education from top institutions. 
The objective behind screening the incumbent's background was to investigate and highlight any red flags in his profile. AuthBridge was provided with the incumbent's resume and documentary proof of address, education, and identity.
Extensive web and media check 
Our extensive checks helped unearth multiple resumes and profiles with two different names. Post the discovery, both profiles were collated and compared to reveal gaps and overlaps in employment and educational qualifications.
In-depth reference check
This involved reaching out to the previous employers and helped in validating information about tenures, roles and overall conduct, among other details.
Education verification 
In education verification, it was found that one profile had a mention of education from Harvard University. Another profile included education from IIM-A which, when verified, came out to be fake.
Leadership Screening Services, like AuthLead™, prove to be worthwhile investments. Our solutions enabled our client to get a 360-degree view of the identity and profile of the person being verified.
Ready to Explore AuthBridge for your business?
We'd love to show you how AuthBridge can help your business. Fill out the form and we'll be in touch within 24 hours.