Streamlining EWS Onboarding & Verification for a Leading IT Services Provider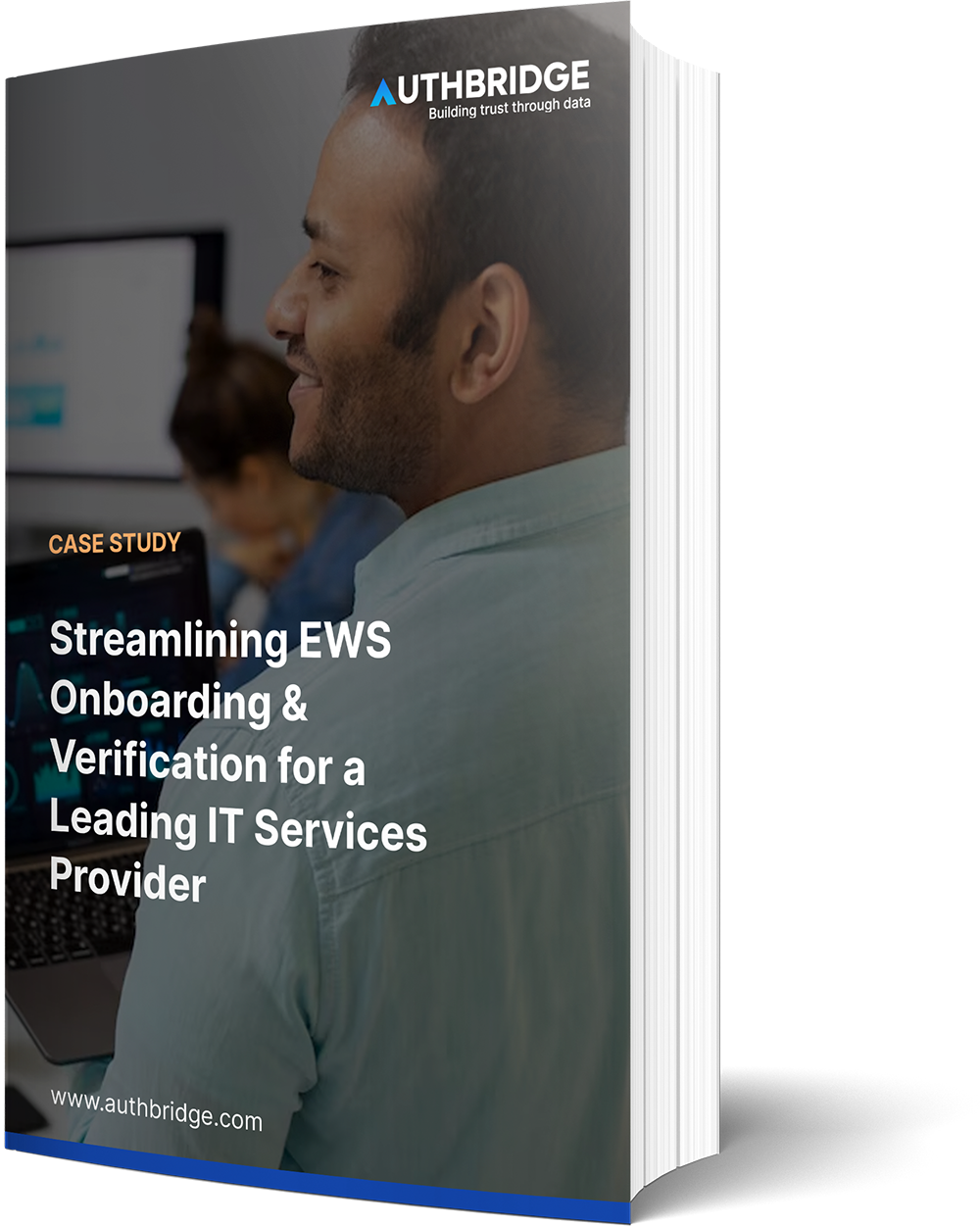 One of the leading IT services providers headquartered in Tokyo and operating in over 50 countries. It offers an advanced portfolio of consulting, application, business process, cloud, and infrastructure services to businesses and governments worldwide.
Managing 110+ vendors with ease
All database checks done within 1 working day.
Standardized reports ensuring visibility and transparency
No reopening/re-verification charges with prepaid benefit
No response closure status less than 0.5%
Extended Workforce Screening Solution
Our client, one of the leading IT services providers operation in 50+ countries, partner with 110+ vendors for recruitment services. Managing so many vendors and tracking the progress of background checks was getting chaotic. They wanted a solution in place to bring all their vendors to a single platform and get a holistic view while standardizing the reporting.
Challenges
Scattered management of extended workforce
Lack of standardisation in reporting due to multiple BGV vendors
Inconsistent workflows and processes
Impact on operational agility and decision making
The AuthBridge team offered solutions that improved our overall operational agility, efficiency and productivity.
Bringing all the Vendors on a Single Platform
Our client was partnering with 110+ vendors for their recruiting needs. With multiple vendors, managing and tracking background verifications for each candidate became a mammoth task.
AuthBridge provided them with an Extended Workforce Screening Solution to bring all the vendors on a single platform –  giving complete visibility of the status, reports and activities. With comprehensive dashboard, our client got hiring insights from all vendors to track discrepancies in real-time. Overall, consolidating, digitising and standardising their background verification process.
Standardised Reports For Consistent Workflows & Better Decision-Making
Our client was looking to standardise their BGV reports as different vendors followed different screening processes. Standardizing the process across vendors was imperative to ensure compliance and visibility across its extended workforce hirings. 
With AuthBridge, our client received standardised reports and covered quality checkpoints which further helped them maintain a high level of quality and eliminate inconsistencies in the output.
15+ Database Checks in Less than 1 Day
With multiple vendors and in turn multiple BGV companies, the client was facing high TAT for database checks. AuthBridge's 1 billion+ proprietary database enabled our client to reduce that time to less than a day. This was a significant game changer in verifying and onboarding new candidates  –  leading to enhanced operational agility and flexibility.
By leveraging our solutions, our client was able to improve operations with standardised reports and conduct database checks conducted ahead of time. What they loved the most is that there were no additional costs for reopening or re-verification of cases with the prepaid payment method.
Ready to Explore AuthBridge for your business?
We'd love to show you how AuthBridge can help your business. Fill out the form and we'll be in touch within 24 hours.