Real Money Gaming in India
The journey of online real money gaming has been promising as the growth trajectory is only going upwards – especially after Covid-19. The repeated mandated lockdowns pushed more players across the world to play online real money games and cash in on some massive winnings. As per the All India Gaming Federation – The Online Gaming in India – The GST Conundrum' report, the online real money players are expected to grow from 80 million in 2020 to 150 million by 2023.
Despite the RMG space growing at a head-spinning pace, it is a highly unregulated industry in India. Factors like industry moving from brick-and-mortar casinos to online space, easy accessibility, growing networking capabilities, integration of cloud, mobile apps, and social networks are appealing not only to the gamers but also to the fraudsters. 
As the space is unregulated, it is a breeding ground for bad actors who can cause reputational, financial, and regulatory risks to the business. Online gaming operators need a robust KYC framework to protect themselves from sophisticated and fraudulent attacks.
Most Common Types of Frauds in Real Money Gaming
The real money gaming segment is divided into two categories i.e. Fantasy Sports and Online Card Games. Both categories lack strict KYC checks, overlook regulatory guidelines as platforms allow relative anonymity to increase the player traffic. This leads to various types of frauds that impact the reputational, regulatory, and financial aspects of the businesses. Below mentioned are some of the common frauds in real money gaming: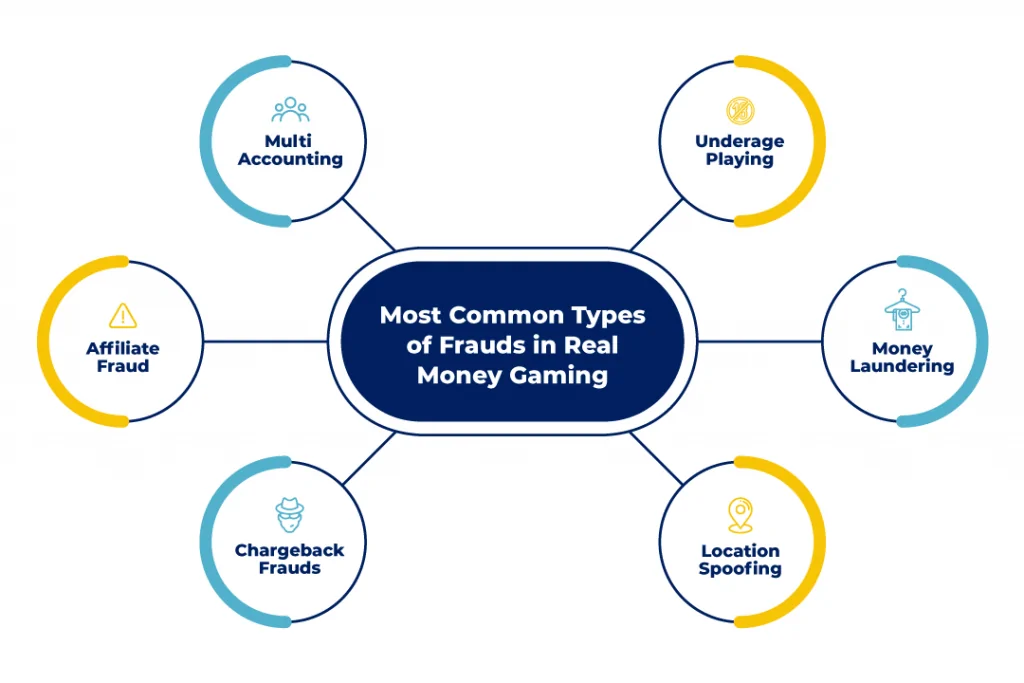 Multi Accounting: Multi-accounting is strictly prohibited in real money gaming. Many users create multiple accounts under different names to claim sign-up or welcome bonuses offered by the platform (only meant for the new users). This impacts the monetary health of online gaming businesses but also makes them lose the trust of the player community. Fraudsters creating multiple accounts lead to 'bonus abuse' and 'collusive play', making genuine players feel that the game is rigged and switch to other platforms. It is important to conduct identity checks with technologies like biometric identification, OCR, video KYC, etc., and ensure that every player account is genuine and unique.
Affiliate Fraud: Affiliate fraud is a consequence of multi-accounting as discussed above. Many real money sites/platforms offer referral bonuses to the users to invite other players to start playing. To make illicit profits, fraudsters sign-up the the referral programs, use stolen IDs and credit cards (purchased from the dark web) to make conversions, and automate the process at scale via bots mimicking human behaviour. Bad actors can create multiple accounts using stolen IDs and avail affiliate benefits, ultimately sending junk traffic to your platform, and ruining marketing budgets with no ROI.
Chargeback Frauds: This fraud is common not only in online gaming, but across all online businesses. It happens when a user makes transactions using stolen credentials for malicious reasons. Once the bank detects an illegitimate transaction, the business has to bear the consequences of chargebacks and fines. This puts the company's time and resources in dire straits.
Underage Playing: Underage gaming is strictly prohibited in games with stakes. The lack of appropriate checks for age verification might lead to reputational and regulatory risks for gaming operators. Businesses must ensure that their platforms are only accessible to age-appropriate users and restrict minors (users below the age of 18) from getting unlawful access to age-restricted content.
Money Laundering: As stakes are involved, criminals can use these platforms to conceal illegal gains and make profits out of it. It is crucial to assess money laundering risks to prevent financial crime, track suspicious transactions, and ensure the winning amount is transferred to verified accounts only.
Location Spoofing: People play real money games from different parts of the world – resulting in a high volume of cross-border traffic. It becomes a challenging task for the business to stay aligned with geographic jurisdiction requirements and verify players' location. Many users disguise their location to infringe regional restrictions, which means taking businesses on the wrong side of the law. It is crucial to adhere to the respective state laws and discourage users from using the platform from a banned state.
Recent Global Gaming Fraud Trends
Synthetic/Stolen IDs:
The fastest-growing type of fraud that is utilised to bypass KYC checks. The rise of the dark web and major data breaches have made it easy for fraudsters to gain access to personally identifiable information. They purchase or steal the IDs on the dark web and forge them convincingly. These alterations are hard to detect and appear genuine. Due to this reason, cutting-edge authentication technology is required to match the face on the ID document and prevent a stolen or altered ID from passing the checks.
Deepfakes for Video Verification:
Deepfake technology is used in synthetic media to create false content, replace or synthesize faces, speech, and manipulate emotions. Fraudsters have been using this technological innovation to dodge the KYC process. This means it is just not enough to have a video verification system in place. A combination of AI-powered technology along with manual identification is needed to validate the legitimacy of the users.
Safeguarding a real-money gaming business from money launderers and cybercriminals is way more complicated than it seems. A robust authentication and identification process should be in place to recognize red flags, verify bank account details, and background checks to validate the legitimacy of funds used in games. Though businesses can evaluate user information with proof of identification like an Aadhaar Card, driving license, etc, it is also recommended to conduct criminal checks to safeguard your platform and stay compliant.
How AuthBridge's Fraud Prevention Solutions Mitigates Risks?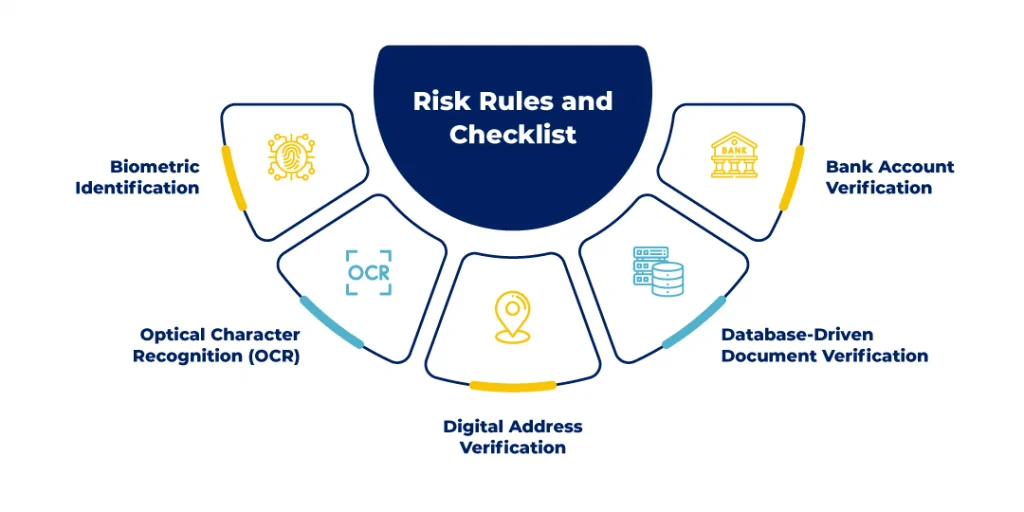 1. Risk Rules and Checklist: Gaming companies can get benefitted from a gamut of checks such as age verification, address checks, IP, and KYC/AML checks to verify the user identities. Our AI-backed technologies such as Biometric Identification, Optical Character Recognition, Digital Address Verification, Database-Driven Document Verification, and Bank Account Checks help businesses onboard 'genuine users' at scale that automatically gets translated to a great onboarding experience.
a. Biometric Identification: Biometric identification technology matches a player to their documents through an image-based face match and validates that a player accessing the platform is the same one who registered in the first place.
b. Optical Character Recognition (OCR): OCR technology catches document forgery and tampering easily, sieves fake applications from the real ones, and enables ease of onboarding with automated data capturing. This results in a seamless player onboarding experience and lower account abandonment rates.
c. Digital Address Verification: Digital Address Verification captures the location of a user through geo-coordinates and helps in preventing location spoofing – allowing gaming businesses to stay compliant.
d. Database-Driven Document Verification: NID verification against PAN or Aadhaar databases allows for quick verification of documents, establishing the identity of a player in real-time.
e. Bank Account Verification: Validation of bank details is crucial to prevent money laundering and financial crimes. Our API-based penny drop method validates bank details along with the beneficiary's name.
2. Risk Scoring: With AuthBridge, you get updated on the risk score of a user based on the checks executed. As per the scorecard, you can decide whether to onboard a particular user or not.
3. Real-Time Verification: Video KYC journey combined with state-of-the-art technologies for document tampering, liveness check, and real-time verification of users at scale for fastest onboarding – in 2 minutes or even less.
AuthBridge's Cutting-Edge Authentication Solutions
Online real money gaming is a burgeoning sector, but the lack of the right authentication technology still restrains the high potential. Leveraging AuthBridge's AI-powered solutions help gaming companies identify bad actors and aggregate data across various sources not limited to criminal background checks.
1) OnboardX: OnboardX is AuthBridge's onboarding engine to create customisable end-to-end onboarding journeys for users. This API-led intuitive application is easily integrable, facilitates real-time verification, and ensures only relevant documents are collected for businesses to stay compliant with the legal and regulatory mandates. It makes identity verification and onboarding journeys completely digital and paperless, saving your onboarding time and operational costs.
2) TruthScreen: TruthScreen is AuthBridge's AI-enabled KYC and risk profiling product that delivers data-based insights of the users. Built on capabilities like OCR, facial recognition, and liveness detection, it helps in the real-time verification of identities at scale. It can be seamlessly plugged into your existing infrastructure or used as a stand-alone web platform.
3) D-KYC and V-KYC: Our Digital KYC and Video KYC enable end-to-end seamless user onboarding journeys through AI-powered facial recognition, liveness detection, OCR, and geotagging technologies to catch identity and financial frauds before onboarding new users.
4) Vault: Vault is our proprietary database of negative and criminal record checks. It leverages the power of AI and deep search algorithms to search for various sets of permutations and combinations of a name and address against datasets of 200+ million records from 3500+ courts at the PAN-India level. This database is a goldmine to onboard and authenticates new users before you onboard them on your platform.
Real money gaming businesses must integrate AI-powered technology to verify the user identity, and prevent data theft, and other financial crimes. Learn how you can also safeguard your gaming platform from potential fraud, bring in profitable traffic, and offer a transparent and delightful experience.