There is no dearth of background verification companies in India. However, not all have the manpower and technology to ensure high verification accuracy at industry leading turnaround time (TAT). Delhi NCR being the hub of many multinational companies along with government institutes sees a high volume of verification check requirements.
AuthBridge based in Gurgaon is one of the largest identity and background verification companies in Delhi NCR. As a technology-driven background verification company, we enable simple and quick solutions for companies from Delhi NCR, Gurgaon, Noida & and across India to obtain a BGV report. A robust background check mitigates risk, protects the company's reputation, and thus adds to future revenues.
Why choose AuthBridge for background screening in Delhi NCR, Gurgaon & Noida?
AuthBridge provides trusted, 360-degree background check services for a large spectrum of clients. The risk of hiring candidates with a negative record is very likely the hurt your organization. The probability of losing brand equity is relatively as high with unverified hires. A business that doesn't implement proper background checks ends up with a serious long-term impact on its business. With exhaustive background checks from AuthBridge, companies in Delhi NCR can provide a safe working environment as fraudsters can easily be identified. Background checks play a crucial role in different ways for any business such as acquisition, hiring talent, litigation, signing a contract, etc. Our data-driven technology helps our clients to check identity, education, employment, references, and criminal records.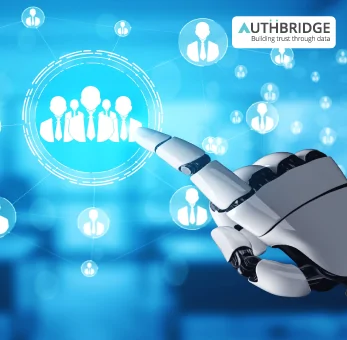 For e.g., a case of forgery, impersonation, and identity fraud of an office bearer at the Prime Minister's Office has been registered with Delhi Police or how a man uses an impersonator to qualify Delhi Subordinate Services exam using dubious means.  These are only a few of those countless cases where candidates have faked their resumes to attract lucrative jobs.
Partner with AuthBridge, one of the leading employee background verification companies in Delhi NCR, which offers AI-powered authentication solutions around interviewing, identifying, and selecting a suitable employee in lieu of time-consuming and expensive processes. However, our cutting-edge authentication products and alternate data analysis for your businesses help you make informed hiring decisions for your company. According to a study, 40% of resumes submitted by job applicants contain incorrect/falsified information. Therefore, many companies in Delhi/NCR have started taking background checks seriously for potential candidates.
Why background checks are a must for any company
a. Background checks successfully exposes dishonest applicants
b. Background checks help enhance hiring quality.
c. Background checks help companies to check the financial, employment, and criminal details of their employees.
d. Background screening ensures that the information shared by candidates is 100% accurate. In addition, background screening safeguards your business interests from any unlawful aspects such as fraudulent transfers, loss of income, and reputational damage.
Benefits of Conducting Background Verification for Companies in Delhi NCR
As one of the credible and leading background verification companies in Delhi NCR, AuthBridge offers powerful and compliant background screening. We take immense pride in leveraging technology to offer the fastest, and most detailed reports. A few Fortune 500 companies around Delhi/NCR often hire AuthBridge with the goal of conducting pre-and post-employment background checks for continuous surveillance of employees.
i) Background checks are critical to keeping track of employees before and after employment.
ii) Employees with a history of substance abuse can be taken out immediately with the help of quick background verification.
iii) The criminal record of the potential candidates can be checked well in time with background checks.
iV) Background checks offer a safe and inclusive work environment for the employees hired.
V) Background checks result in quality hires, resulting in a lesser turnover in the companies
We also provide employee screening solutions for corporate giants. We have a faster turnaround time and deliver at competitive pricing. The identity and address verification services offered by AuthBridge verify the correctness, existence, and authenticity of addresses as well as important identity documents. As one of the top background verification companies in Delhi, AuthBridge offers you quality verification services with accurate analysis that is very simple yet effective. By availing of background verification services from AuthBridge, you will get first-hand information that is accurate, quick, and timely for wise decision-making and can help you complete the background check efficiently as well. We do not want to shy away from sharing that AuthBridge ranks first among the best background verification companies in Delhi. Know more about our background verification services in PAN India and globally.
Importance of Background Checks in Delhi/NCR
Today, most companies in Delhi/NCR tie up with hire background verification companies to supplement their employee hiring processes. Employee background verification is inevitable in Delhi/NCR, which is one of the corporate hubs. Background verification ensures that a fair and safe working environment can be provided to past and present employees. Besides risk mitigation, it prevents fraud, protects brand value, builds trust, and promotes future growth. Background checks can be applied to all candidates like full-time, contractual, freelancers, etc. Background checks are crucial because the employees you hire have full access to office space, assets, and sensitive data after being hired.
     
If you are looking for background verification in Delhi/NCR and want to avail the services of a reputed, trustworthy, and technology-driven background verification company, book a demo with us at: sales@authbridge.com or talk to our experts.
In Delhi/NCR we have our presence across locations including New Delhi, Noida, Gurgaon, Greater Noida, Faridabad, and Ghaziabad.