On 10 May 2021, the Reserve Bank of India (RBI) announced new measures to ensure that financial services market continues to operate congenially in the wake of the COVID 19 crisis. As per the RBI Video KYC guidelines these measures are centred around the rationalisation of compliance to KYC norms by the RBI, and attempt to relieve customers amidst the ongoing crisis and improve financial inclusion, especially among small and medium enterprises (SMEs).
A summary of what has changed:
Expansion of the scope of Video KYC
V-CIP or Video-based Customer Identification Process has been extended to new customer categories such as small businesses, authorised signatories and beneficial owners of Legal Entities, chartered accountancy firms and proprietorship firms. Earlier, this process was limited only to the banking customer onboarding scenario.
Conversion of limited KYC accounts to fully KYC-compliant accounts
The Aadhaar-based e-KYC accounts that were earlier treated as 'limited KYC' accounts in the absence of in-person verification can now be treated as 'fully KYC-compliant' once the Video KYC process is completed. This move will strengthen FinTech and the lending ecosystem by supporting digital KYC norms for these stakeholders and their customers. This move will also bring relief to payments banks who will now be able to onboard more customers and their customers who will get access to banking services like savings limit and credit that were restricted under limited KYC.
Extension of date for KYC compliance norms
Customers with a pending periodic updating of KYC norms will be exempt from any punitive action till 31 December 2021. They will be able to access their accounts without any restrictions from their bank till the end of the year. Meanwhile, they can complete their KYC process from the safety of their homes through digital channels. These are:
1. Video KYC for presence-less identity verification
2. Submission of electronic documents through DigiLocker
3. Use of KYC Identifier of Centralised KYC Registry (CKYCR)
Digital transformation is the way ahead
The recent move by the RBI has confirmed that KYC digital transformation is the way forward for the BFSI sector. While financial services have always been focused upon using technology and data as differentiated strategy, the recent crisis has expedited the adoption of technology and the search for newer and faster ways to get customer insights for an improved customer experience. Financial organisations are set to witness a cultural shift as they realise the importance of being more agile and open to new ideas and experimentation. All stakeholders need to invest in tech and digital capabilities heavily.
AuthBridge offers a plug and play model to adopt RBI-compliant KYC solutions
Video-based Customer Identification Process (V-CIP) by AuthBridge is a consent-based method of establishing customer identity. It provides a seamless customer experience via real-time data collection and verification, real-time face match, gesture-based liveness check and geotagging. Swift and economical, AI-powered V-KYC by AuthBridge is a scalable and integration-ready, plug and play product for remote customer identification and authentication within minutes. Compliant with AML/KYC regulations, this V-KYC solution offers customisable workflows to automate checks for customer journeys across different financial products.
In addition to Video KYC, the suite of Total KYC solutions at AuthBridge also includes Offline KYC (O-KYC), Central KYC (CKYC) and Digital KYC (DKYC). Financial entities can customise these solutions as per their need.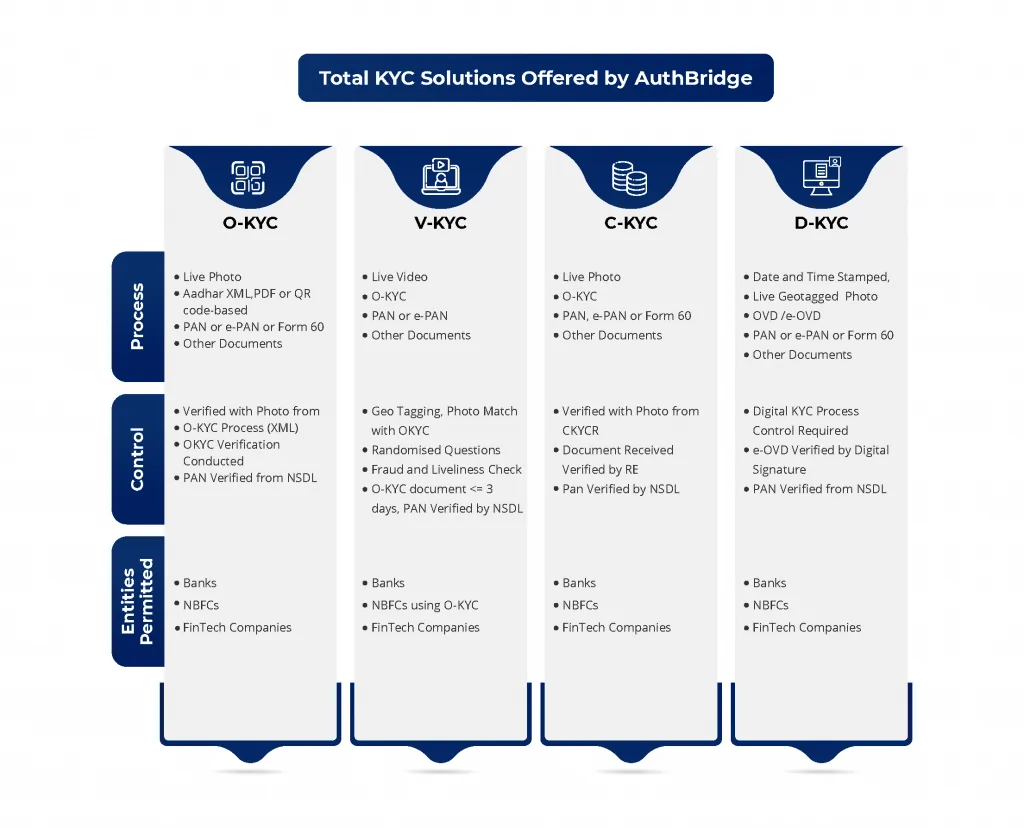 AuthBridge offers alternate data analysis for identity management, onboarding & verification and risk intelligence
AuthBridge analysis structured and unstructured sources of alternate data
— utilities, mobile phone, rental information, tax data and social media —for customer insights for the purpose of underwriting, appropriate risk buying, and management of the lifecycle of a loan, beginning from onboarding-underwriting-collection-customer management. Our proprietary technology, powered by machine learning and advanced analytics, provide deep and reliable insights into the customer spending pattern, financial discipline, and payment behaviour. The use of alternate data is precious during the COVID crisis when many customers' ability to pay has been negatively impacted due to loss of a job or with reduced income. Alternate data can offer a fair assessment of creditworthiness by relying on more than one source of authentication.
Find out more about these solutions here, or contact our team for a demo at sales@authbridge.com